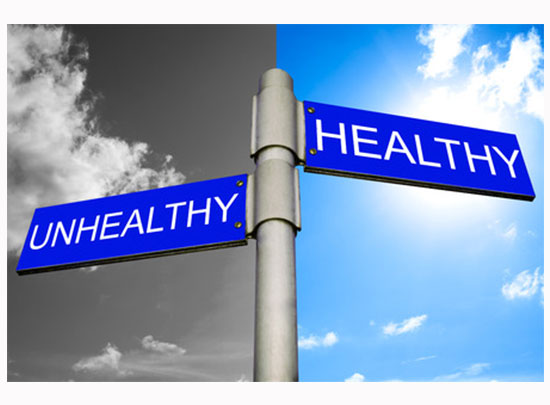 WHO IS TOXIC? (Hint: Everyone is)
GUIDELINES FOR INTERNAL CLEANSING AND PERMANENT WEIGHT LOSS
NEW  HEALTH MEDICAL CENTER
Who is toxic? In modern life, all of us are exposed on a daily basis to 82,000 chemical toxins, heavy metals, food additives, other environmental pollutants and prescription drugs. The medical effects may include fatigue, muscle aches, headaches, joint pain, digestive symptoms, brain fog, respiratory congestion, menstrual and menopausal symptoms, infertility, thyroid and adrenal deficiencies, depression and anxiety. This two-phase program is designed to first cleanse or detoxify the body, in preparation for the second phase of long-term weight loss.
PHASE I: DETOXIFICATION/ INTERNAL CLEANSING (14-21 days)
Take the Toxicity Questionnaire to determine whether your score indicates toxicity.
Follow the Elimination or Anti-Inflammatory Diet guidelines, accompanied by 8-10 glasses of alkaline, anti-oxidant (Kangen) water, available from the clinic.
Each day, take the homeopathic drainage drops, medical food supplement powder and herbal capsules that are specific for opening the doors for drainage and stimulating detoxification through liver, kidney, lymph and intestinal pathways for elimination.
Schedule Constitutional Hydrotherapy once a week and Colon Hydrotherapy once a week, with a one-hour session of Infra-Red Sauna following each hydrotherapy session.
Schedule acupuncture, along with Bemer Electromagnetic Field Therapy (BEMT) and injection of Vitamins B12/B complex/C and magnesium once a week.
Exercise at an aerobic level 30-40 minutes daily.
PHASE II: WEIGHT LOSS PROGRAM (21-40 days)
Phase I (Detoxification/ Internal Cleansing) is the preparation for a program that should result in safe, sustained weight loss of up to a pound each day.
Receive the prescription for HCG or Herbal Thermogenic (Fat-Burning) Formula that is to be taken daily according to directions.
Follow the guidelines in the patient manual for the Very Low Calorie Diet, specifying foods and beverages allowed.
Continue to drink at least 8 glasses of alkaline, anti-oxidant (Kangen) water daily and continue daily aerobic exercise, with the addition of 10 minutes of weights or resistance training.
Continue Constitutional Hydrotherapy and Colon Hydrotherapy each once a week and Infra-Red Sauna twice a week.
Continue acupuncture, BEMT, and vitamin/mineral injection one a week. At each session, measurements of weight, fat composition and fat mass will be taken and recorded to monitor the progress of weight loss.
If the weight loss goal is not achieved within the 21-day or 40-day program, the program may be repeated after an interval of 6 weeks.
To learn more read our article on Metabolic Detoxification, Rejuvenation, and Anti-aging.
NEW HEALTH MEDICAL CENTER
"The Nature Cure Place"
23700 Edmonds Way
Edmonds, Wa. 98026
Phone: 425-775-6001
Fax: 425-776-7119
Email: newhealthmedicalcenter@gmail.com
Website: www.newhealthmed.com