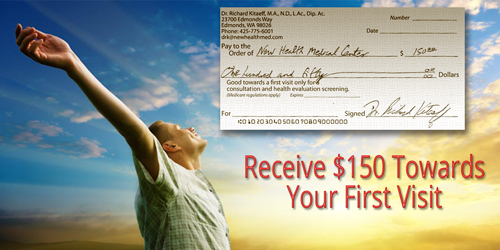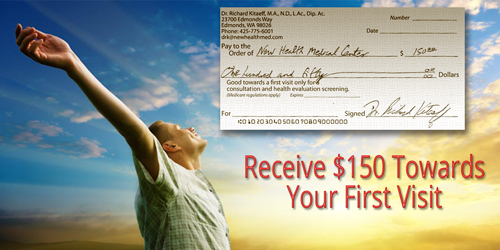 Dealing with a difficult or persistent health problem?
Try a 30-minute initial naturopathic medical consultation, including in-office testing for toxicity and adrenal status and discussion of individualized treatment options (normally a value of $150). Schedule an appoint today and bring in the voucher below (on your phone or printed) for your free consultation!
For this free initial consultation, meet with one of our Naturopathic Physicians/ Acupuncturists, Dr. Richard Kitaeff, an award-winning physician with 42 years experience in the natural medicine field and director of New Health Medical Center, and Dr. Kevin Kuo, bringing the latest innovative techniques to the clinic's broad spectrum of assessment and treatment methods. Both doctors specialize in Pain and Stress Management, Weight Loss and Metabolic Disorders, Hormone-Balancing, Cancer Support, and European-style medical spa programs in Internal Cleansing/Detoxification and Cosmetic Non-surgical Face-Lifts.
Call (425) 775-6001 our office to schedule your consultation and pay using this check.
Bring this check to the front office to receive your free initial consultation.